This will be the fourth year that Nike's Salute to Service apparel has come out with NFL Support the Troops jerseys for each team in the NFL.  They are really unique, cool and 100% of the proceeds are donated to great organizations that support all of our service men and women like the Pat Tillman Foundation and the USO.  Teams are represented with Salute to Service Hoodies, Tee Shirts and Jackets for men and women.  They also have limited edition Salute to Service NFL jerseys to support the troops that have camo letters, ribbon tribute and flag patches on the sleeve.  Check out the jerseys below along with what players are available for the 2016 release :
Note : 2017 Salute to Service Hoodies are coming soon!  Be sure to "Like Salute to Service Hoodies" on Facebook to be notified the moment that they are available so you can be assured to get what you need, while they remain in stock.  They sell out fast when you see the players wear them on the field for Veteran's Day weekend.  The good news is that you can order them weeks in advance before most people even know that they are available! 🙂
Disclosure : We do not receive ANY compensations for "Clicks" on any of our links.  We only receive a small commission fee if we make a sale.  100% of the proceeds (profits that the company makes) is donated to great organizations like The Pat Tillman Project, USO or the (improved) Wounded Warrior Project.
2016 Support the Troops, Salute to Service Jerseys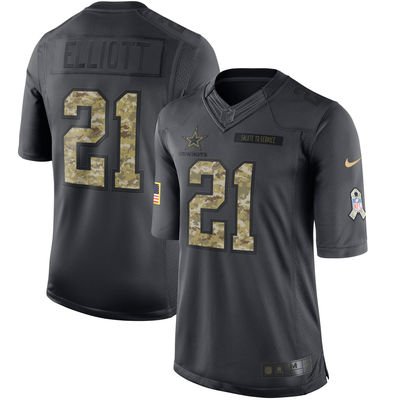 Browse Salute to Service Jerseys by Size
(100% of the proceeds are donated to the Pat Tillman Foundation, the USO, and the Wounded Warrior Project)
Also Browse
Nike Military Tribute, Salute to Service Hoodies, T-Shirts and Jackets
Here are the 2016 Salute to Service Jerseys with Camo Lettering, Nameplate patch, and tribute sleeve patches :
12th Fan – Seattle Seahawks
A.J. Green – Cincinnati Bengals
Aaron Rodgers – Green Bay Packers
Adrian Peterson – Minnesota Vikings
Allen Robinson – Jacksonville Jaguars
Alshon Jeffery – Chicago Bears
Amari Cooper – Oakland Raiders
Andrew Luck – Indianapolis Colts
Antonio Brown – Pittsburgh Steelers
Brandon Marshall – New York Jets
Cam Newton – Carolina Panthers
Clay Mathews – Green Bay Packers
Connor Barwin – Philadelphia Eagles
Darrelle Revis – New York Jets
DeAndre Hopkins – Houston Texans
Derek Carr – Oakland Raiders
Dez Bryant – Dallas Cowboys
Drew Brees – New Orleans Saints
Eli Manning – New York Giants
Ezekiel Elliot – Dallas Cowboys
Fletcher Cox – Philadelphia Eagles
Greg Olson – Carolina Panthers
Harrison Smith – Minnesota Vikings
Jameis Winston – Tampa Bay Buccaneers
Jarvis Landry – Miami Dolphins
Jason Witten – Dallas Cowboys
JJ Watt – Houston Texans
Joe Flacco – Baltimore Ravens
Joe Haden – Cleveland Browns
Joey Bosa – San Diego Chargers
Jordy Nelson – Green Bay Packers
Julian Edelman – New England Patriots
Julio Jones – Atlanta Falcons
Kam Chancellor – Seattle Seahawks
Khalil Mack – Oakland Raiders
Kyle Long – Chicago Bears
Larry Fitzgerald – Arizona Cardinals
Le'Veon Bell – Pittsburgh Steelers
Luke Kuechly – Carolina Panthers
Marcus Mariota – Tennessee Titans
Mathew Stafford – Detroit Lions
Novorro Bowman – San Francisco 49ers
Odell Beckham Jr. – New York Giants
Patrick Peterson – Arizona Cardinals
Richard Sherman – Seattle Seahawks
Rob Gronkowski – New England Patriots
Ryan Tannehill – Miami Dolphins
Russell Wilson – Seattle Seahawks
Ryan Kerrigan – Washington Redskins
Tavon Austin – Los Angeles Rams
Teddy Bridgewater – Minnesota Vikings
Todd Gurley – Los Angeles Rams
Tom Brady – New England Patriots
Travis Kelce – Kansas City Chiefs
Tyler Locket – Seattle Seahawks
Tyrod Taylor – Buffalo Bills
Von Miller – Denver Broncos
Retailer's who carry Salute to Service "Support Our Troops" Jerseys by Nike :
Sports Fanatics :
Return policy – 365 day no hassle returns
Delivery fee – Five dollar no hassle returns
International shipping – Yes
Customer rewards program – 5% fan cash on all orders placed
Gift certificates – Yes
Types of NFL Salute to Service military appreciation apparel available – Youth tee shirts, hoodies, track jackets, jerseys.
Baby sizes available – 3M, 6M, 9M, 12M, 18M, 24M
Toddler and preschool sizes – 2T, 3T, 4T, 5, 6, 7, 8
Youth Kids sizes – XS, S, M, L, XL
Women's sizes – XS, S, M, L, XL, XXL, 3X, 4X
Men's sizes – S, M, L, XL, XXL (2X), 3X (3XL), 4X (4XL), 5X (5XL), 6X (6XL), XT (XLT), 2XT (2XLT), 3XT (3XLT), 4XT (4XLT), 5XT (5XLT)
Note Salute to Service apparel only available in S, M, L, XL, 2X, 3X, and 4X.  XLT tall sizes aren't available for military tribute apparel but they do have XLT NFL camo t-shirts and hoodies that are nice.
Fans Edge Sports – This company has a great collection of Salute to Service apparel for both men and women.  Listed below you will find the Support the Troops player jerseys associated with each team along with the supportive ribbon tribute and flag patches.
Store policies :
Return policy : 1 Year
Bulk order discounts – Yes
Low cost shipping – Flat rate $4.99 shipping covers everything, regardless of quantity of items ordered.
Gift certificate options – Yes.
International shipping – They ship to over 100 countries.  Great option for men and women living or serving overseas.
Types Salute to Service apparel available – Jerseys, t-shirts, hoodies, jackets, adjustable hats, fitted hats, knit pom caps.
NFL kids apparel comes in sizes : Toddler 2T, 3T, 4T, kids XS, S, M, L, XL.  Adult S, M, L, XL, 2X, 3X, 4X, 5X, 6X, XLT, 2XT, 3XT, 4XT, 5XT
Support our Troop jerseys with ribbon and flag patches :
Arizona Cardinals – Larry Fitzgerald, Patrick Peterson
Atlanta Falcons – Julio Jones
Baltimore Ravens – Joe Flacco
Buffalo Bills – Tyrod Taylor
Carolina Panthers – Greg Olson, Cam Newton, Luke Kuechly
Chicago Bears – Ryan Long, Alshon Jeffery
Cincinnati Bengals – A.J. Green
Cleveland Browns – Joe Haden
Dallas Cowboys – Dez Bryant, Ezekiel Elliot, Jason Witten
Denver Broncos – Von Miller
Detroit Lions – Mathew Stafford
Green Bay Packers – Aaron Rodgers, Clay Mathews, Jordy Nelson
Houston Texans – DeAndre Hopkins, JJ Watt
Indianapolis Colts – Andrew Luck
Jacksonville Jaguars – Allen Robinson
Kansas City Chiefs – Travis Kelce
Los Angeles Rams – Tavon Austin, Todd Gurley
Miami Dolphins – Jarvis Landry, Ryan Tannehill
Minnesota Vikings – Adrian Peterson, Teddy Bridgewater, Harrison Smith
New England Patriots – Julian Edelman, Tom Brady, Rob Gronkowski
New Orleans Saints – Drew Brees
New York Giants – Eli Manning, Odell Beckham Jr.
New York Jets – Brandon Marshall, Darrelle Revis
Oakland Raiders – Amari Cooper, Derek Carr, Khalil Mack
Philadelphia Eagles – Connor Barwin, Fletcher Cox
Pittsburgh Steelers – Antonio Brown
San Diego Chargers – Joey Bosa
San Francisco 49ers – Navorro Bowman
Seattle Seahawks – 12th Fan, Kam Chancellor, Russell Wilson, Tyler Lockett
Tampa Bay Buccaneers – Jameis Winston
Tennessee Titans – Marcus Mariota
Washington Redskins – Ryan Kerrigan
Browse ALL Salute to Service Apparel